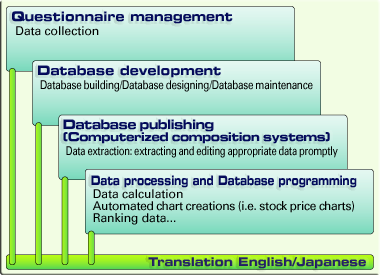 Databasing underlies diverse business by systematically organizing stored information or data.
Depro offers seamless database services, from database construction for successfully selling data (information) to creation of a file readily accessible on a medium.
Business models (data utilization) have been undergoing dramatic changes and becoming more multifaceted coupled with innovation in information technology. Our everyday scenes are taking on new aspects as the increasing penetration of data medium is making into digitalization and databasing, in tandem with data output on paper such as publishing.
The quality of our services is guaranteed through our established automatic composition technology that enables effective batch processing of bulk data and publishing. Our technology has batch composition in sync with a database, besides database construction, which is capable of extracting necessary data from a constructed database and creating a tagged layout and index automatically, leading to a quantum leap in operation efficiency and cost saving.
Recent media diversification has been spawning new business models including a sales system of e-books which has been shifted from CD or DVD to download services on mobile networks or the Internet.
In contents, there have been demands for a hyperlink which points to a specific element within documents and technology which produces vibrations along with a video and sound, and these demands are impossible to be met on paper.
Depro's specialists and technologies assist your company in building a usable database environment to support new business models you pursue. Our integrated and comprehensive services include localization (translation), database technology, production technology and network technology. With our expertise, we will crystallize your emerging ideas in business scenes.
Business in step with the times, services that open the door to a new era.
We, at Depro, value your support and inspire success.
For more information about DEPRO's services, please feel free to contact us by e-mail.
E-mail:contact@de-pro.info