What's New
We are glad to announce you that we have got ISO 17100 Certificate
in July, 2016.
This international standard provides requirements for core processes, resources, and other aspects necessary for the delivery of a quality translation service that meets applicable specifications.*
We, DEPRO Co., Ltd. can be identified that Demonstrate conformity of specified translation services to this International Standard and capability of its processes and resources to deliver a translation service that will meet client's and other applicable specifications.*
* quoted from ISO 17100 Scope section
Scope of the certification for our company is Japanese translation services for materials related to industry and science technology, and information technology including software
localization
We will make our best effort to meet our clients' needs with our "ISO-certified"processes, which will lead our outputs to high quality.
Thank you.
---
DEPRO is a highly specialized localization & data processing company and a market leader well recognized for its incomparable services. Our highest priority is to satisfy our customers through our valuable services.
Frontrunner 
[By anticipating the changing needs and staying ahead of the times]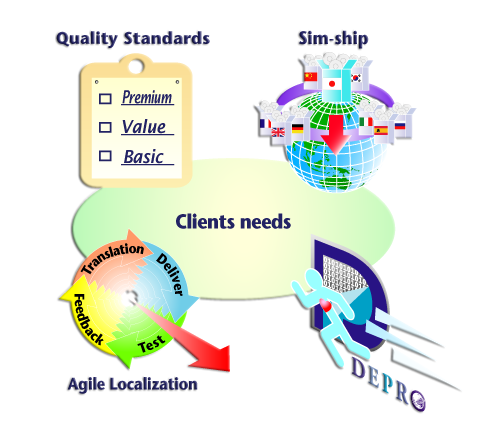 Expanding "agile (short-cycle)" software development method, today's information technology market that attributes its success to new product speedy launches? there are the ever-changing needs and potential risks which pose challenges of responding promptly for us as localizers. The transition model from waterfall procedure to agile software development method requires more workforce flexibility, readiness, and expertise. Agile method can result project team accelerating the time to market for new products.
With more globalization, response to the developmental regime with "sim ship"* engaging in worldwide product delivery is also our new challenge.
Quick response, expertise and flexibility are being called for to tackle a flood of exciting challenges for localizers. Depro, as an expert, embraces efforts in regard to demanding tasks as its growth element and devotes itself wholeheartedly to support for agile localization and the "sim ship" needs.
Our services start with determining the needs of a customer. We, as a frontrunner, incorporate a leading-edge information technology into localization workflow, keeping pace with the trend of the times, to ensure high quality and satisfactory results. Cost- and time-savings are also realized by having the right skill sets and competent staffing.
Being part of customers' successful business is valuable to us as localizers.
* Ideally the localized product should be shipped on the same time as the original-language product. This concept is known as "simultaneous ship," or "sim ship."